Weighted sleeping bag with pillow for better sleep and calmer nights
High-quality workmanship and materials, breathable and skin-friendly cotton inside the sleeping bag
Perfect for travelling or at home during a nap
The sleeping bag is extremely compact because it can be rolled up and tied. This makes the weighted sleeping bag a reliable travel companion, keeping your baby safe anywhere in the world. Just open the zipper, slip your baby in and put her to sleep!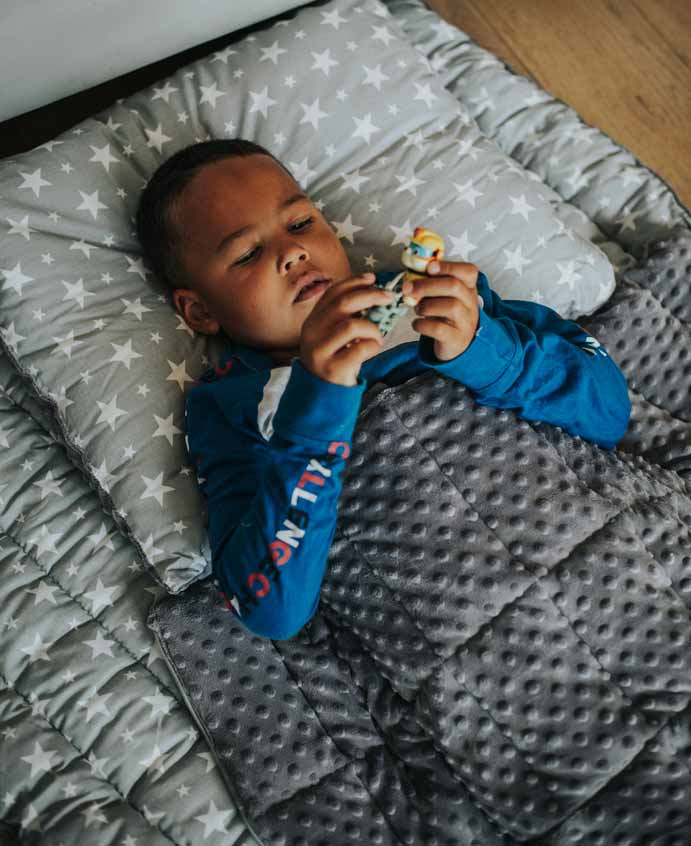 Product details
The weighted sleeping bag was created for babies. The sleeping bag is suitable for sleeping at home, for an afternoon nap or for accompanying an evening ritual to process the events of the day and rest. The baby's body and brain are activated by receiving many different sensations and learning new skills throughout the day. The weighted sleeping bag provides children with a retreat where they can feel safe and rest.
We use only high-quality and skin-friendly materials for the production of the sleeping bag. Thanks to the use of cotton (Oeko-Tex certified) inside the bag, the child's temperature is perfectly regulated and the skin is protected. Pleasant Minky fabric on the outside for warmth. The weight is created by a filling of tiny glass beads that are evenly distributed over the body and exert a pleasant pressure.