Weighted Robe Balance® - for deep relaxation all day long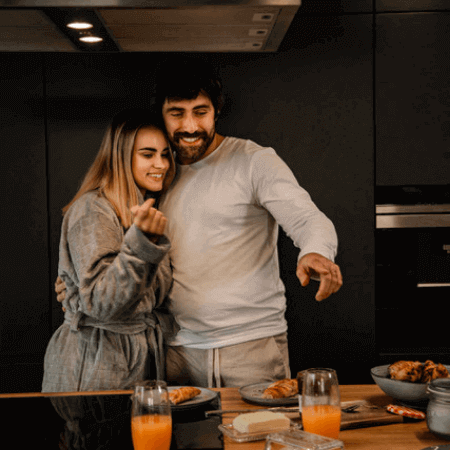 Pleasant to the touch weighted robe for the perfect start or end of the day. It has a similar effect to a weighted blanket, except that you can use it all day long.
It can be successfully used interchangeably with a weighted blanket, ensuring relaxation also during sleep.
When worn, it creates a slight pressure on the body, ensuring peace and relaxation. It provides better sleep and prevents stress and anxiety attacks.
The appropriate cut, large collar and belt make the robe very comfortable to wear and fit well to the body.
It is great for sensory therapy. Its load is located in the collar, which can be quickly removed if necessary, so we can successfully use it as an ordinary robe or bathrobe.
It is hand-sawn, made of high-quality plush and cotton, which gives a pleasant feeling on the skin. The filling consists of glass microspheres that are hypoallergenic.
Comes with a comfortable collar and a belt to tie at the waist.
Features of the Balance® Weighted Robe:
Three weight options – 1kg (> 69kg); 1.5 kg (70-99 kg); 2kg (<100kg)
Available in three colors – Poseidon blue, grey, dark grey
Hypoallergenic filling (glass micro-beads)
The load is in the collar (fastened with a zipper)
Removable weighted collar, so you can use it as a regular robe or bathrobe
Type of material: outer part made of quilted plush, the inner part is made of soft cotton
Weight collar and strap included
After removing the load, wash at a temperature not exceeding 30 ° C
A great addition to the weighted blanket, it can be used during the day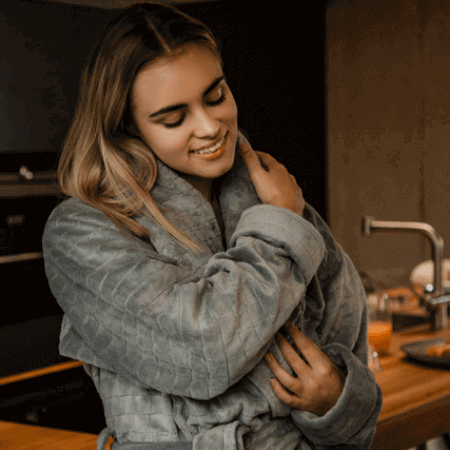 Our recommendation for the weight of the weighted robe based on body weight:
– 1 kg [user weight up to 69 kg]
– 1.5 kg [user weight 70-99 kg]
– 2 kg [user weight over 100 kg]
After the load is removed, the robe can be machine washed at a maximum temperature of 30 ° C.