The Basic Gravity® Blanket consists of four layers made of organic materials and ensures ample sleeping comfort, providing sufficient energy for the next day.
What is the composition of the Basic Gravity weighted blanket?
First: The cover is pleasant to the touch, soft, made of 100% cotton, and available in two colours, grey or white. The cover is removable for easy washing.
Second: The quilted blanket insert is made of 100% organic cotton.
Third: The warming insert consists of 68% cotton and 32% polyester. It provides pleasant warmth that is hard to resist!
Fourth: The glass microbeads are distributed in small chambers throughout the entire blanket, thanks to which the weight is evenly distributed and perfectly compresses our body. This magical element makes this product unique.
The entire blanket is hand-sewn with great attention to detail in Poland.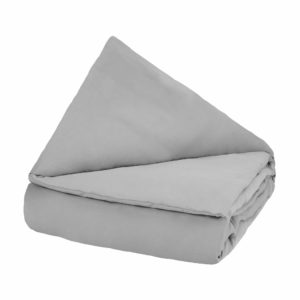 HIGH-QUALITY WORKMANSHIP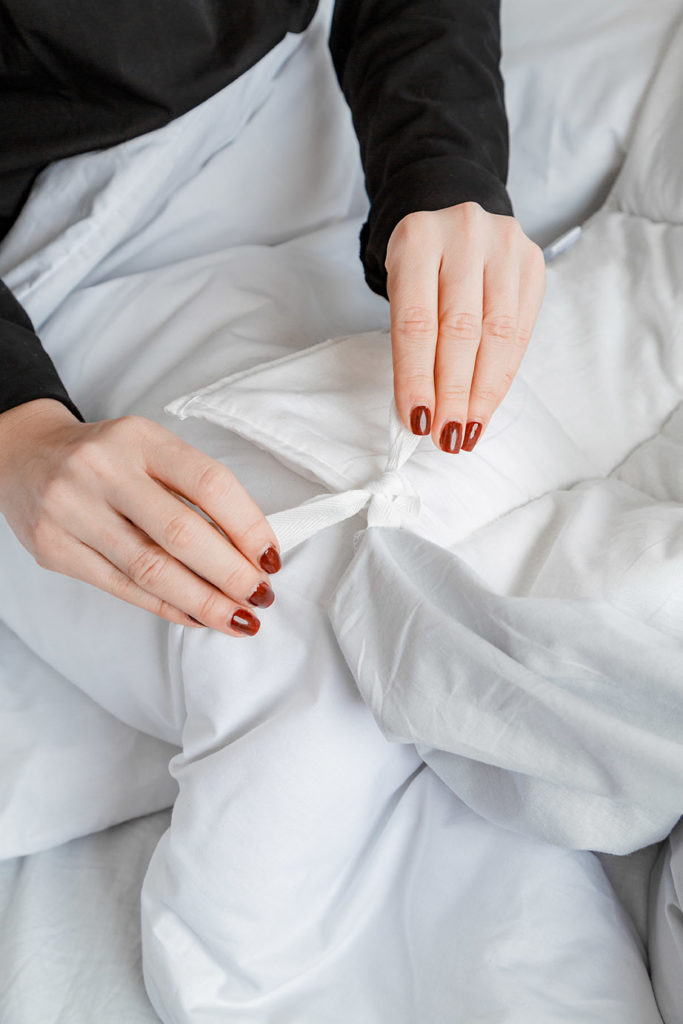 Because the cover is easy to replace and fastened with straps, the blanket will last for years. The straps stabilize the blanket so that it does not slip and conforms well to the body. The cover is pleasant to the touch, which is another advantage of the product.
The cover is made of 100% cotton and boasts European safety certificates (Oeko-Tex Standard 100).
Available in white and grey.
The Basic Gravity® Blanket offers a great opportunity for people who would like to try out the performance of the weighted blanket for the first time. It is the perfect alternative for people looking for a more budget-oriented solution while maintaining the product's high quality.
The blanket, made in accordance with the latest technology, improves physical and mental conditions and increases the quality of life.
Today we live in a constant rush, we are exposed to overwhelming stress, and many people suffer from depression. The gentle pressure of the weighted blanket stimulates inner deep feeling (proprioception), thanks to which our body and muscles relax, and the mind calms down. In addition, experts have proven that the weighted blanket helps in coping with disorders such as restless legs syndrome, and it alleviates the symptoms of obsessive-compulsive disorder, anxiety neurosis, and depression. It also supports the treatment of psychophysical disorders: autism, Asperger's syndrome, and ADHD, and is widely used in sensory integration therapy.
One of the main advantages of the blanket is how it affects sleep. Thanks to the light pressure, we feel cuddled, safe, and relaxed, and this results in falling asleep quicker and a more peaceful, uninterrupted sleep. A night spent under this blanket guarantees efficient rest.
The Basic Gravity® Blanket is available in two sizes; 135 x 200 cm and 150 x 200 cm. The weight ranges from 4 to 12 kg.
Choose the recommended weight of the blanket