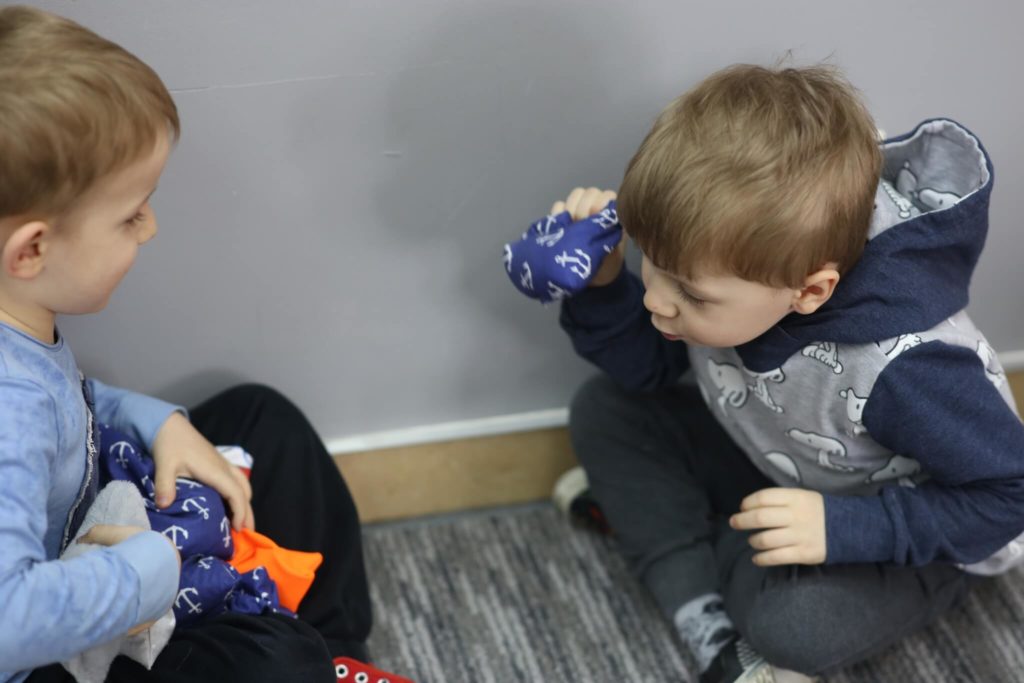 How to recognize that a child has problems with fine motor skills?
Parents can monitor their child's progress with their hands during daily activities (checklist below). Bear in mind that although poor motor development may be a result of sensory integration disorders, this is not always the case. Sometimes the child develops acquired skills a little later or manual development is uneven. If parents have any doubts, they should consult a therapist.
Here are some examples of tasks during which you can easily observe your child's handling skills:
holding and using cutlery,
using scissors,
unscrewing and twisting bottles,
handling small buttons, hooks, naps, etc.,
unpacking,
closing and opening the boxes,
holding and stacking puzzles, coins, buttons, etc.,
lacing shoes,
use of keys,
turning pages of a notebook or book,
Proper holding of a pencil and a pen,
writing in a clear way,
drawing and painting,
Other artwork, such as clay or finger painting
finger compression (e.g. plasticine, toothpaste tubes, etc.)
playing on instruments (holding drumsticks, playing the piano, etc.),
drumming on the table top with one finger.
If a child does not feel confident doing these or similar tasks, it is a sign for parents that it is worth spending more time on common hands-on exercises and activities.
How to develop your child's manual skills?
Consult with your teacher, therapist or doctor for any suspicion of developmental disorders. In the case of developing and working on the hand muscles it is important to consider that delays or developmental deficiencies can cause problems and lack of independence in the future.
What else can you do for your baby? You can certainly work with him/her at home. To accelerate your progress in mastering manual skills, let's change into fun. Children are more willing to perform tasks when they are different, fun and interesting. Here are some suggestions:
Plasticine – this exercise is worth repeating as often as possible. All hands and fingers are in it. The child must choose the strength, for example, to roll plasticine and later to make small, delicate parts.
Ginger breading, brittle cake – common pastries are an unforgettable experience for every child. Forming cakes can be very varied – you can cut dough molds, croissants or balls, etc.
Placing Stamps – The fun of stamping can be stretched over time. Often stamps are used in kindergartens as a reward for good behavior. They are put on a toddler's hand or a special "behavioral assessment" card. Parents can bring the same fun at home. For good behavior, a child will put a stamp on themselves. It's a game that not only exercises your hands, but also encourages you to be polite and creates very positive emotions. Painting with paint – Yes! It will be a mess! Smart parents will protect themselves from ubiquitous stains, for example by spreading newspaper or a drop cloth, and children can have some real fun.
Chasing coins in hard-to-find places – it's a good idea to count coins before storing them in different nooks and crannies to know when the task will be done. Children can be rewarded in such a way that the execution of the task results in throwing all the collected coins into the child's piggy bank.
Playing fleas – a bit like fun to collect coins is fun with fleas.
What's in the bag? – Fun, which involves putting your hands in the bag and touching objects or toys hidden in it.
Putting on beads (noodles) on a string – great fun requiring coordination of movement and precision. Beads can be replaced with tube-shaped pasta or star-shaped pasta. In this case it is more interesting than macaroni noodles and can also be painted earlier with paints.
Cut outs – playful scissors, even those adapted for children, require constant parental supervision. However, it is a good exercise in which each hand performs something else, and in addition required accuracy in cutting the card.
Stickers – You can now buy many colored stickers, but a good way might be to buy tape for a label. It is important that your child practise sticking stickers on a board, holding and sticking.
Much depends on the imagination of parents and their children. Older children may try crocheting, playing the piano, and taking part in cleaning (for example, polishing with a cloth).